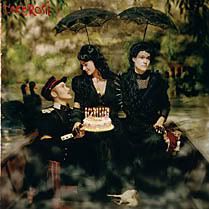 MUTLULUKTAN PATLAMAK
Çok çok heyecanlı bir mental yolculuk haberi aldım az önce. Cocorosie'nin yeni albümü The Adventures of Ghosthorse and Stillborn 10 Nisan tarihinde kulağımızda tınlamaya başlayacak!!
Bu masalsı isme sahip albümün üzerine peri tozu serpilmiş şarkı listesi şöyle:
1- Rainbowarriors
2- Promise
3- Bloody Twins
4- Japan
5- Sunshine
6- Black Poppies
7- Werewolf
8- Animals
9- Houses
10-Raphael
11-Girl and the Geese
12-Miracle

Albümün ilk singılı muhtemelen Rainbowarriors olacak. Bakalım bu gökkuşağı savaşçıları bu sefer bizi kalbimizin hangi köşesinden vuracak?